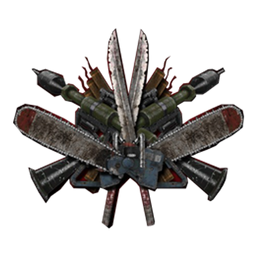 Various weapons and character upgrades are made available to the player during the course of The Executioner DLC. Most of these are obtainable as the player clears out the many areas of the Victoriano manor, though some will require achieving certain feats to unlock.
Overview
The game starts by giving the player the Hammer for free, while the rest of the loadout can be obtained from slaying various bosses throughout the mansion. Unlike the upgrading mechanics of the main campaign, player gear in The Executioner only allows for damage improvements, and capacity upgrades if applicable. Player stats are additionally limited to Health and Movement Speed increases, though the streamlining does not impact gameplay all that much considering how straightforward it already is.
Both upgrades and weapons require

Memory Tokens to purchase, which can be obtained from killing enemies, using the Memory Scanner in certain locations, or randomly from smashing furniture.
Weapons
The Hammer is the starting weapon in The Executioner. Although slow, it is a deceptively powerful weapon, capable of knocking enemies off balance to open them up for a grapple or an execution. It can also block and parry certain attacks, like the Sadist's chainsaw when timed correctly.
Until the Sword is unlocked, the Hammer is the only weapon capable of executing enemies. Supports Damage upgrades.
"Dynamite is most effective when thrown at immobilized enemies, such as those caught by Barbed Wire Trap."
―Store description
Dynamite is one of two additional tools available to The Keeper from the start aside from the Barbed Wire Trap. It acts as a reskin of the Grenades available in the main game and as such acts similarly. Dynamite explosions deal tremendous damage to groups of enemies, and is very handy to use against larger foes, though its limited capacity forces the player to be frugal, and careless usage can lead to self-harm.
Costs

10 to buy and replenish, though more Dynamite can occasionally drop from the Haunted who throw them. Supports Capacity upgrades.
"Place these traps simply by throwing them. Haunted caught can then be Executed."
―Store description
The Barbed Wire Traps are available from the get-go and are a very valuable piece of kit at any stage. When thrown, these act as mines that will catch onto the legs of various enemies with barbed wire, pinning them in place and opening them up for a grab or execution. Larger enemies and bosses, however, will simply be inconvenienced by these if not outright immune to their effects, and will shake them off very quickly.
Costs

10 to replenish, though more can be crafted for free by collecting boxes of parts around the environment. Supports Capacity upgrades.
"The favourite weapon of the Sadist. When it runs out of fuel you can purchase more in the Shop."
―Store description
The Chainsaw is unlocked upon defeating the Sadist. It is a very powerful tool, capable of instantly killing any lesser Haunted with a single hit even prior to upgrades. It is swung in an arc in front of The Keeper, goring anything it hits if they are bunched up together, though its slow swing speed can leave the player vulnerable while using, and its utility is limited by the amount of fuel it has. By default the Chainsaw has a limit of 10 units of fuel.
Costs

30 to buy and refuel. Supports Damage and Fuel Efficiency upgrades (i.e. amount of hits per fuel unit).
"These bottles engulf a wide area in flames upon impact. They are one of Joseph's preferred weapons."
―Store description
Molotov Cocktails are unlocked by defeating the Haunted Joseph Oda. Like Dynamites, these are powerful crowd-controlling weapons, capable of roasting large mobs of enemies with a well-aimed throw. Smaller enemies will instantly die upon being set aflame, though larger foes will simply be stunned by it before resuming their attacks. Molotov Cocktails are capable of inflicting self-damage if thrown carelessly.
Costs

20 to buy and replenish. Supports Capacity upgrades.
"Long range rockets that are particularly effective against large enemies."
―Store description
The Rocket Launcher is unlocked for purchase after defeating the RPG Sadist. As in the main game, the Rocket Launcher is a very powerful explosive weapon, and acts as an aimable version of the Dynamite that explodes on impact rather than timed. When used correctly, the launcher is capable of defeating masses of lesser enemies, while dealing tremendous damage to bosses, though its self-harm damage is also greater than other weapons, and can knock The Keeper down if he's caught in the blast.
Costs

80 to buy and replenish. Supports Capacity upgrades.
"The sword wielded by the Dark Keeper. If it loses its edge, it will need to be repaired in the Shop."
―Store description
The Sword is the final weapon unlocked in The Executioner. It boasts very quick slashes that can cut ribbons out of anything it hits, and deals respectable damage per hit. However, it can only be used during a New Game+, and unless Infinite Ammo is bought, it will become dull very quickly and rendered unusable until sharpened again in the Shop. Like the Hammer, the Sword is capable of executing enemies.
Costs

100 to buy and repair. Supports Damage and Durability upgrades (i.e. amount of hits per unit of blade "health").
Character upgrades
"Increase the maximum level of the Life Gauge."
―Store description
Health upgrade is very straightforward, as it simply extends The Keeper's life bar at the top of the screen, allowing him to take more damage before dying, calculated after Defense.
"Reduce the amount of damage taken from enemy attacks."
―Store description
Defense reduces the amount of damage received from all sources, rather than just enemy damage as claimed in the Shop interface. With Defense, all damage taken are reduced by a certain percentage before being applied to Health, essentially allowing The Keeper to take more hits per unit of HP.
"Increase overall walking speed."
―Store description
Movement Speed upgrades increase The Keeper's overall movement speed in general, rather than just walking. With upgraded ranks, The Keeper will be able to run and sprint at noticeably higher speeds, allowing him to reach or run away from enemies easier.
"Allows unlimited usage of all weapons."
―Store description
Infinite Ammo is exactly what it says on the tin. As soon as this upgrade is purchased, weapon uses no longer subtract from their respective stocks (i.e. throwables no longer need replenishment, the Chainsaw and Sword no longer need to be refueled/repaired). Completing all Torments unlocks Infinite Ammo for purchase in the Shop.
Costs

200
to buy.
"Enemies drop more Memory Tokens when killed."
―Store description
The Golden Hammer is unlocked during a New Game+ by defeating Sebastian Castellanos in a secret execution chamber on the second floor of the manor. With the Golden Hammer unlocked, slain enemies will drop more single Memory Tokens per kill, not more tokens per drop. It otherwise is just a reskinned Hammer.
Costs

250
to buy.
Notes
The final upgrades for various items are locked until the player has defeated certain bosses:
Purchasing Infinite Ammo in the shop also unlocks the remaining weapon capacity upgrades, free of charge.
Defeating Sebastian (and Joseph) in the Hidden Execution chamber does not unlock the Golden Hammer.
The Dark Keeper takes reduced damage from the Rocket Launcher
Krimson Chainsaw Massacre
Kill 10 basic Haunted with the chainsaw.
I Might Close Early
Purchase all items in the Shop.
Trivia