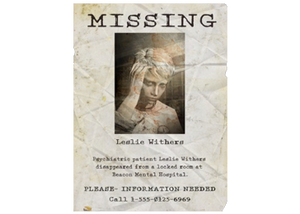 Missing Person Posters are a collection of collectibles found in The Evil Within. They are filed notices of missing residents of Krimson City and the surrounding areas, which serve to provide some additional information on individuals relevant to the events of the plot that are happening at the time of their collection. All Missing Persons Posters are found on a notice board in the Safe Haven.
Collecting these is part of the Every Nook and Cranny Achievement/Trophy.
Missing Persons Posters
The article or section below may contain minor to major plot spoilers. Proceed at your own risk.
Every Nook and Cranny
Collect every collectible in The Evil Within.
For other collectibles, consult the pages below.
Trivia