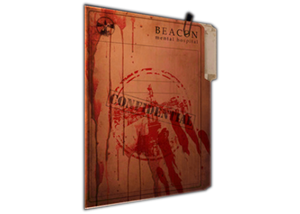 Documents are pieces of collectible notes, diary pages and research papers that can be collected throughout The Evil Within. These are often used to deliver exposition about the game's underlying plot, or occasionally as guides for puzzles.
Collecting these is part of the Every Nook and Cranny Achievement/Trophy.
Documents
The article or section below may contain minor to major plot spoilers. Proceed at your own risk.
Every Nook and Cranny
Collect every collectible in The Evil Within.
For other collectibles, consult the pages below.
Trivia
The notes by "R" were in actuality written by Ruvik himself and left behind as a way to taunt Sebastian Castellanos.
All documents are contained in folders with the Beacon Mental Hospital insignia on the cover despite some of them being written by people who couldn't conceivably have had any ties to the institution (e.g. Lakeside Village Note, Villager's Note, etc...).