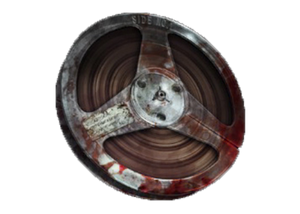 Audio Tapes are a collection of recorded logs that can be collected throughout The Evil Within. Recorded by Ruvik, these provide some insights into his psyche, history and personal experiments.
Collecting these is part of the Every Nook and Cranny trophy/Achievement.
Audio Tapes
Edit
The article or section below may contain minor to major plot spoilers. Proceed at your own risk.
Every Nook and Cranny
Collect every collectible in The Evil Within.
For other collectibles, consult the pages below.
Audio tapes are the only non-key item collectibles to appear as small icons at the bottom of the screen when collected. They also don't pause the game to display their content, unlike every other collectible type.
Logs #9 and #10 couldn't have been physically recorded by Ruvik, as the former entails the process in which he's stripped down to the brain by MOBIUS scientists, while the latter is a collection of Ruvik's grudge after going through the whole process.